Brilliant Champions is a creative production company in Brooklyn, New York. Owned and operated by dynamic duo, Joe Lumbroso and Jillian Mackintosh, our team lives and breathes film, video, art and design. We use a variety of methods and mediums to construct engaging and compelling ideas, content, and experiences. From creative development, production, to post-production, our focus is on championing every project with beauty, innovation and heart. Our work includes commercial production, music videos, narrative, stop motion, documentary filmmaking as well as artist representation and sales through Brilliant Champions Gallery.
Some of our awesome clients include: Airbnb, Forbes, Scholastic, Cisco Systems, Coldwater Creek, DIAGEO, Esurance, Gerber Life Insurance, GoodYear, Google Wallet, Grenade Gloves, Marcus + Millichap, Nestlé Nutrition, PandaExpress, RedBull, R/GA, Sailor Jerry, Samsung SDS, SANDOW, and The Hearst Corporation.
---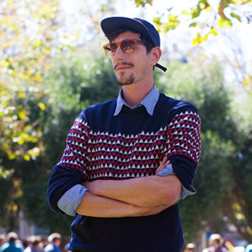 JOE LUMBROSO
Director, Cinematographer & Founder
A dynamic figure, often seen scaling walls, saving runaway baby carriages, and wooing folks with his sensuous and godlike harmonica playing. With over 10 years of production experience under his belt and a background in creative direction, cinematography, graphic design, software and business development, Joe's chutzpah and passion is the driving force in Brilliant Champions.
JILLIAN MACKINTOSH
Creative Director, Producer & Curator
Jillian is an impassioned producer and curator with a commitment to art, culture and education. Maker, name taker, and hand shaker, Jillian champions our brilliant projects ever forward. Her many years experience working as an artist, designer and curator feed the creative process with hands-on production at every stage to build original and impactful work.